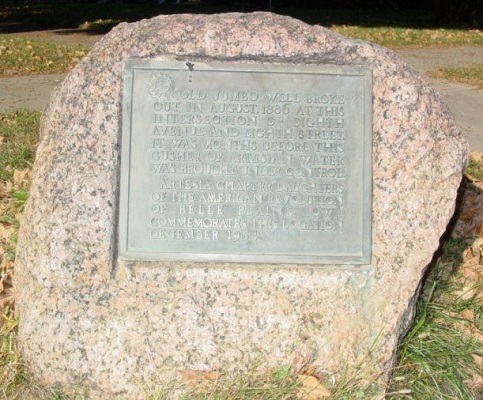 The Artesia Chapter, National Society of the American Revolution (NSDAR or DAR), of Belle Plaine, Iowa, was organized June 28, 1946. The chapter is named for an artesian basin that runs under the town. On August 26, 1886, community leaders decided to have a well dug for fire protection. The driller's work took a turn for the worse when he attempted to use the force of the water to enlarge the two-inch bore to three inches. In a short time, the three-inch hole became three feet. The water fountain shot five feet into the air. No one knows the exact amount of water that escaped, but it is estimated that 30,000 to 50,000 gallons of water shot out in the beginning. Quickly, the flow began to lessen. Two weeks later, a University of Chicago professor figured about 2,000 gallons per minute flowed into Belle Plaine. Along with the water came a lot of sand. It is estimated that 500 to 1,000 carloads shot out of the three-foot hole. Fossil wood and large stones were thrown out as well.

For thirteen months, locals and professionals worked to get the 193-foot-deep Jumbo Well under control. Today, on the corner of Eighth Street and Eighth Avenue, sits a large granite rock as an historical marker. In 1955, the Artesia Chapter of the Daughters of the American Revolution added a bronze plaque on the rock that notes the location of the famous Jumbo Well.

Members of our chapter attend Jumbo Well Ceremonies at Jumbo Well Days in September. We also attend the local Veterans Day Program at Belle Plaine High School in November. At this program we give out the DAR Good Citizens Award to a local high school student.

We celebrate Constitution Week in September by placing displays in the Belle Plaine Museum and the Belle Plaine Library, and we give items to the Belle Plaine Nursing Home. Members also volunteer at the Veterans Hospital in Iowa City, Iowa.